---
…and now the REAL trailer for The Girl with the Dragon Tattoo. The guys over at Killer Film just posted this. The trailer has the Trent Reznor reworking of Led Zeppelin's The Immigrant Song. It sounds pretty awesome. I guess Fincher decided to keep Reznor on for another of his films' after the success of The Social Network's soundtrack.

SOURCE: MOVIE-LIST
---
---
I used to work here until I could take the trendy teen-angst bullshit no longer. Check out this video. My sentiments exactly.

---
---

SHU-IZMZ had a chance to contact and interview Aaron Hortman – Owner/Editor/Writer of GRIND ON!! Magazine! GRIND ON!! Magazine is a webzine that is about to publish its first magazine print issue. I felt that this website needs to branch out and start covering some bands and music that are so influenced by horror and similar genres. So what better way to start this transition then by speaking with an owner of a magazine that focuses on Grindcore and Death Metal which gets massive amounts of influence from horror films. Besides, those two genres, along with Black Metal, are my favorite styles of brutal music! So lets hear what GRIND ON!! has to say about its new magazine and horror!
Grind On!! Magazine used to be a webzine. Tell me how the change of format came about and why?
Well, since I initially started GRIND ON!!, I had wanted it to be a magazine. But I decided to give it a little time to get more known, sort of get my feet wet so to say. After a while, I just figured it was time, man. My good friend Tony from Brutal Disorder Logos agreed to help out with the layout, and I got in contact with Taker, an acquaintance of mine who had done a zine in the past. He offered to help out with some writing to lighten the load. My wife offered to take care of inventory and financial stuff, which is great because when it comes to math, I can't count the number of corners on a circle. It took a little time to build up to this next step, but now we are getting ready to release our first issue!
How long has Grind on!! been around, in either format?
It's only a year old, man. It's hard to believe that it's only been such a short amount of time. In just 12 months, I've been able to work with some of my favorite bands, and make shitloads of great friends.
What prompted you to start up a webzine dedicated to grindcore and death metal?
I fucking love the music, man. It's been a part of me for quite some time now, and it always will be. I just wanted a chance to help out with the scene, and work with some bands that I have admired for years, and to support underground bands that kick ass that no one really knows about. I guess, it was just about preserving the music I love. I fear that death/grind is becoming watered down sometimes, so I just want to help keep it in intact.
Does Grind on!! promote any bands or concerts? Help put on shows, that sort of thing?
Dude, I'm up to my balls in shit these days. Aside from being the creator and lead writer of GRIND ON!!, I am the president of TNDM Nashville. I've booked some mega fucking shows this year with some killer bands. Master, Embalmer, Cardiac Arrest, Rotten Sound, Pathology, Dead Flesh, Atrocious Abnormality, Insidious Decrepancy, and a shit ton more are ALL coming to Nashville this summer! Aside from that, I am in two projects, myself. And I am working about to start a label committed to traditional old school death metal style with also a few bands that are newer that I enjoy. And I am always up for promoting bands that I like, and doing whatever I can for them.
Are there any bands that are in your magazine that are not traditional grindcore or death metal bands?
I am willing to work with any band of the genre that I feel deserve it. I've worked with bands that are old school horror grind like Impetigo that I've always wanted to do something with, and also other bands that are extreme goregrind, grindcore, etc.. Doesn't matter to me the style, or the genre. As long as they are a good band, and true to the music, I will help out.
Does Grind on!! support Black Metal? What are your thoughts on Black Metal?
I tend not to focus on black metal, because the magazine is really for the more death/grind side of tunes, but I do enjoy some black metal, as long as it isn't over polished, or synth up the ass, I can listen to it, but it's something I really have to be in the mood for. I like the old gritty, raw style of old Mayhem, Satanic Warmaster, Sargeist, Von, those sort of bands. I do enjoy working with blackened death metal bands though. Bands that are death metal but have a slight BM feel to them.
Personally, what are some of your favorite bands and albums?
Still, I think that majority of my favorites are older albums. Exhumed's Gore Metal was a classic intertwining of death/grind/thrash that was perfect.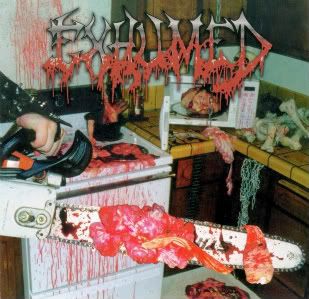 Then there is Impetigo's Horror of the Zombies, one of the pinnacle horror grind albums to come out in my opinion.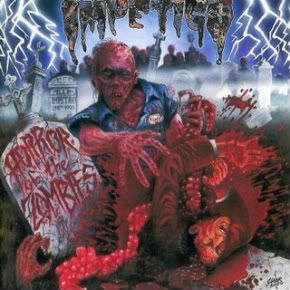 Really enjoy Embalmer's compilation of demos called There was Blood Everywhere, I find myself listening to it at least two or three times a week, haha.. Among those awesome records, anything released by Zombie Ritual, Frightmare, Blood Freak, Cardiac Arrest, Autopsy, Broken Hope, Carcass, Haemorrhage, General Surgery, Insect Warfare, Ex Dementia, Acid Witch, Fondlecorpse, Unleashed, and Repulsion are some favorites of mine, as well. There are too many that I could mention, we'd be here all day, man!

SHU-IZMZ is a website that primarily covers horror and anything to do with horror. Grindcore bands have a history of having some of the bloodiest and goriest artwork on their albums, along with brutal lyrics spanning the spectrum of themes that many horror films share as well. What bands do you think has the goriest and bloodiest artwork on their album covers?
Exhumed has some pretty intense art. I love the bloody chainsaw, the head in the microwave type shit. And I love anything dealing with zombies or cannibalism like the Impetigo covers. Though, Broken Hope's Swamped in Gore probably had my favorite cover in relation with gore, artists like Putrid, Nev, Zornow and many others keep the gore flowing!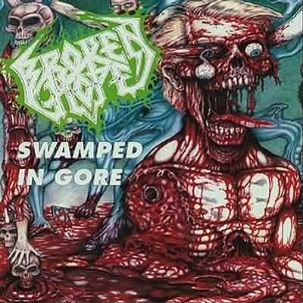 Does Grind On!! ever do coverage on horror films in its pages, or will it in the future if it doesn't already?
Not really, however there is a lot of horror discussion on our online forum.. I think it would be really cool to do reviews of underground horror movies, but it hasn't gotten to that point.. Mainly because I haven't met the people that need their movies reviewed.
What are some of Grind On!!'s favorite horror films?
I gotta say man, I am a big fan of the first three Dead Series (Night of the Living Dead, Dawn of the Dead, Day of the Dead) films. Those movies, I have seen a thousand times at least! And I love movies like Dog Soldiers, Silver Bullet, Army of Darkness, Phantasm and House By The Cemetery. I also love the old universal horror movies. I've grown up on the old Dracula, Mummy and Creature films. The Wolf Man films were classics, too. I am also a sucker for anything that Alfred Hitchcock touches, the master of suspense!
Is Grind On!! going to be a monthly issue?
For the time being, it will be bi-monthly. At least until we get a better idea of how the response will be, and the time it takes to put it together. After that, who knows? It may be a monthly thing.
What is the grindcore/death metal scene like in Tennessee?
For the past few years, it has been a little stagnant in the Nashville area, while Knoxville and Chattanooga's scenes are on the rise. That's why I started TNDM Nashville. There are more local bands popping up, and people are starting to come out and see shows once more. I'd like for Nashville to be one of the premiere death metal scenes on the east coast, but it's much easier said than done.
What is Grind On!!'s plans for the future?
Really, just to keep putting out issues, and trying to get people as involved with the music as we are. Like I said, we've been working really hard on getting the GRIND ON!! Forum up, and I've also been planning for a GRIND ON!! Compilation cd to come out some time this year. Lots of stuff are still in the works, we just have to be patient. I think for just one year, we've come a long way so far. Who knows where we'll be after two years?
What are Grind On!!'s top 10 favorite zombie flicks?
I would say Day of the Dead and Dawn of the Dead have my tie for best zombie movie ever. Other than those, I'd say the Night of the Living Dead original and 1990 Savini remake of it would be close behind, and the list would wind down with Dead Next Door, Nightmare City, Dead Alive, City of the Living Dead, Re-Animator and Tombs of the Blind Dead.
Is Grind On!! a fan of Rob Zombie films, and if so, what is Grind On!!'s favorite film?
I don't much care for Rob Zombie's films to be honest. They rip off too many other great movies, and do a very poor job of it, too! I really didn't like the remake, and I was pretty disappointed to hear he was remaking the sequel, Halloween, which is one of my favorite slasher films of all time. I guess if I had to say which one of his movies sucked the least, it'd be House of 1000 Corpses.
Fan of slow moving zombies or hyper-fast running zombies?
They gotta be creeping, man. The new zombies that run add more raw aggression I suppose, but they don't have the same sense of feel and of dread that the classic walking undead has!
What is Grind-On!!'s favorite scream queen?
I'm old school, man. I think I'll have to go with the classic Psycho scene featuring Janet Leigh's character, Marion. I also love how in the original Night of the Living Dead, Barbra's character was so scared she was practically comatose throughout the entire film, haha! Classic.
Does Grind On!! prefer foreign horror films or home-grown American horror films?
Any movie, anywhere, as long as it is good. Though, I am a real fan of Mexican horror. I love Horror Rises From the Tomb, and The Werewolf's Shadow. Most any of Naschy's films are amazing.
If I had no idea what good grindcore/death metal albums were out there and had to go out and buy 10 cds, which cds should I go by?
Well, for me.. I would say that no death/grindcore fan should be without Impetigo's Horror of the Zombies, Repulsion's Horrified, Exhumed's Gore Metal, Frightmare's Bringing Back the Blood Shed, Embalmer's There Was Blood Everywhere, Carcass' Symphonies of Sickness and Reek of Putrefaction albums, and last but not least, Immolation's Dawn of Possession. All of those albums complete classics that no one can deny! And the last album that belongs on the list would be one of my personal favorite albums of all time, which is Zombie Ritual's Night of the Zombie Party. Amazing punk/grind. Gotta love them!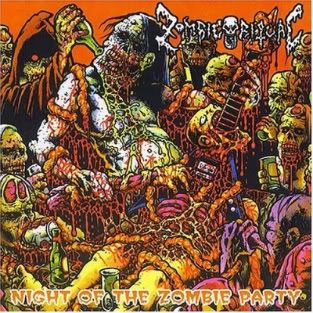 Thanks for your time, Grind On!!
Fuck yeah, dude. Thanks for the great interview. Buy our magazine, and GRIND THE FUCK ON!!!!!!
(Ed. Note: All the bands mentioned in this interview were linked! Click on the links to find more info on each band! They are brutal bands and will slay you! -shu)
---